In the framework of its disability initiative, GROUPE IDEC is mobilising for the 25th edition of European Disability Employment Week which will be running from Monday 15 November to Sunday 21 November.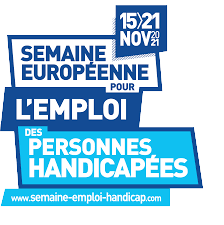 A MOMENT FOR EXCHANGING, SHARING AND AWARENESS-RAISING
The aim of this one-week event is to discover the different schemes put in place to facilitate the professional integration of people with disabilities. It is a moment for exchanging and sharing, where you can find out about and raise awareness around the subject of work for people with a disability.
A PROGRAMME OVER A WHOLE WEEK
Several events are going to be organised on our sites all along this week with the participation, in particular, of Marie Amélie LE FUR and Raphaël BEAUGILLET, medal-winners at the TOKYO Paralympics. Occupational Medicine, Cap Emploi and Anne-Cécile LORETTE, our Disability advisor, will also be present.