FOSHAN,
AN EXCEPTIONAL LOCATION
Close to the major cities of shenzen, hong kong and macau, we offer a wide range of real estate projects. . We are at your service to build your real estate projects.
Located on the western shore of the guangdong-hong kong-macau great bay area and in the western metropolitan area of guangzhou-foshan, gaoming is one of the top investment areas.
The recommended land is located in xiaodong industrial park, genghe with an area of 367 ha.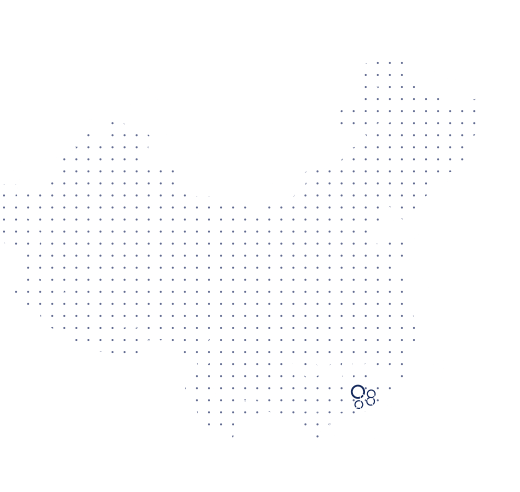 Guangdong is a province of the People's Republic of China situated in the south of the country, and its capital is Guangzhou.
Guangdong is China's most heavily populated and richest province.
Foshan is located to the west of Guangzhou, near Shenzhen, Hong Kong and Macau, and is a major manufacturing base.
Foshan is the prefecture city of Guangdong province in the Pearl River delta area. It is one of the three major hubs in the Greater Bay Area and with Guangzhou forms the Guangzhou-Foshan metropolitan area. Gaoming is an urban district in Foshan.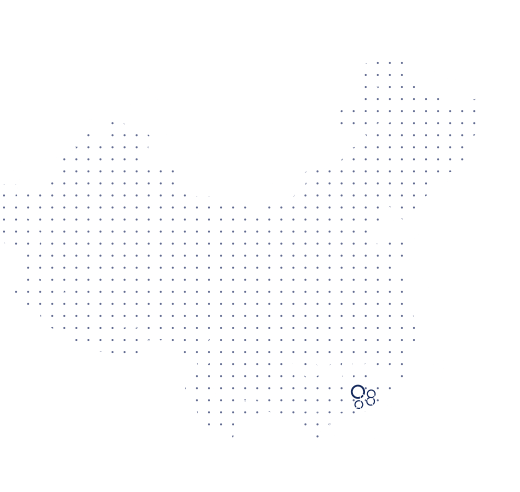 > Nanzhuang metro line 2 from Chancheng to Gaoming Xi'an
> Zhaoqing to Nansha interurban railway
> Nanning to Shenzhen High-Speed Train
> New Pearl River delta airport route
> Annual flow of 30 to 50 million passengers, currently being designed
> Formation of an international aviation centre with the Guangzhou Baiyun international airport
> Two goods ports (Hecheng et Fuwan) and one passenger port in Hong Kong
> 18-km long Xijiang Golden Waterway
> Haikou international port zone is currently under construction
> River-Ocean multimodal shipping centre
> Guangzhou to Gaoming expressway
> Jiangmen to Zhaoqing expressway
> Jiangmen to Luoding expressway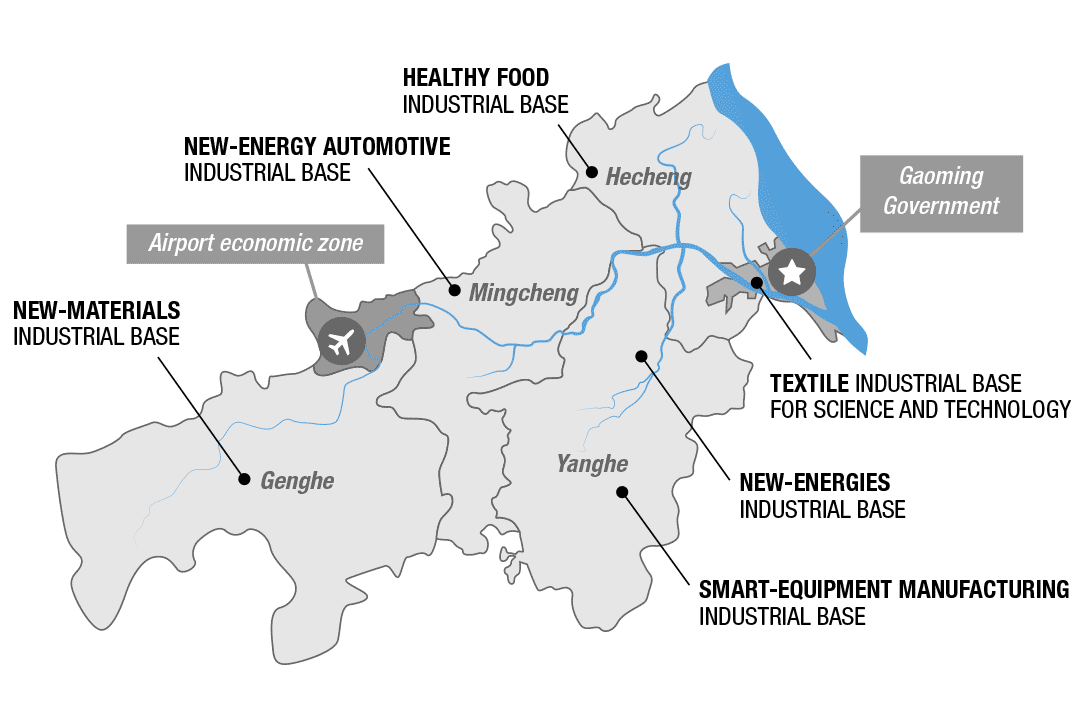 CANGJIANG
INDUSTRIAL PARK
Cangjiang Industrial Park is a State-level economic and technological development zone, with a 51.51 sq.km central area. Cangjiang Industrial Park is an important hub stretching out to the west of Guangdong province with passenger, logistics, capital and industrial flows.
The Industrial Park is developing its assets as an industrial, scientific and technological innovation base with a regional focus, and in the areas of protection of the eco-environment and administrative efficiency.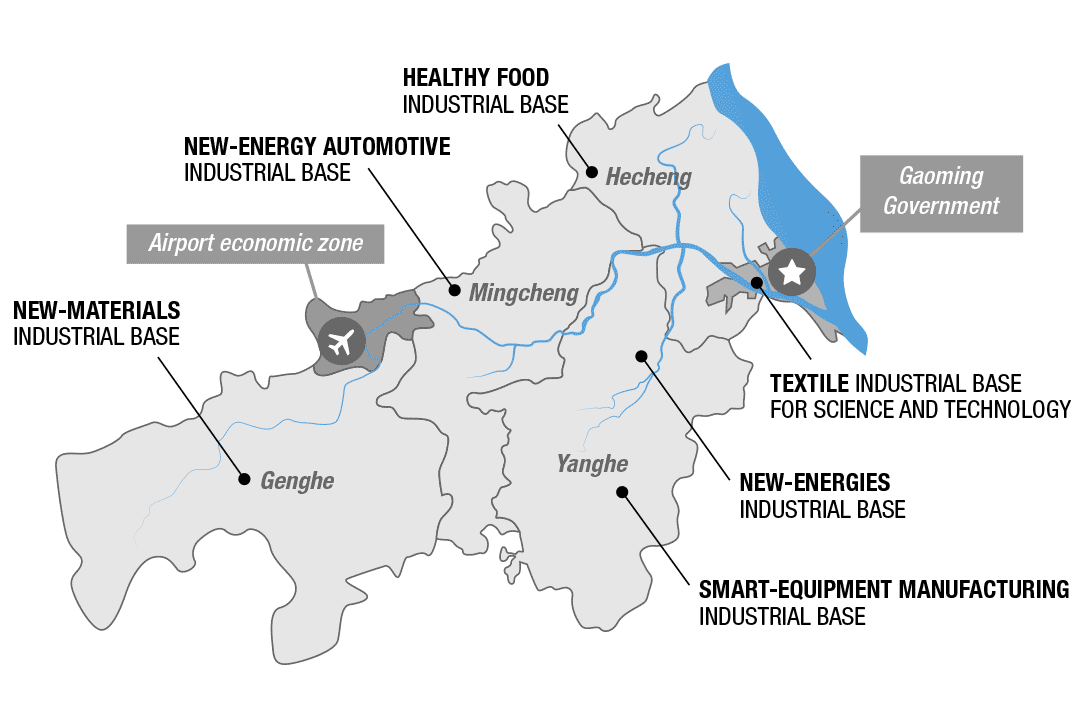 Investment policy
The largest subsidies that can be obtained for a single project total RMB 3 million, once the project has successfully invested in Gaoming. Chinese and international companies newly set up in Gaoming thanks to investments financed by foreign funds (including the Hong Kong SAR, the Macau SAR and Taiwan) will benefit from rent aids, subsidies for the construction of workshops, incentives for their financial contributions, human resource services and many other types of aid.
The subsidies for a single project can total RMB 3 million.
Special support fund for industrial and high-tech projects going from RMB 100,000 to RMB 1,000,000
Sectors concerned:
Technological and scientific innovations, research & development for new products, technology transfers for the conservation of energy, reduction of emissions and the recycling economy, acceleration in the area of independent innovations, transformation and industrialisation of high-tech developments, industrialisation of patented technologies.
Talent management
Verified high-level talents introduced by companies in Gaoming will receive support regarding secured accommodation, children's schooling and jobs for spouses.
Confirmed high-level talents will be offered a living allowance and a culture-related subsidy.
High-level talents that meet the class I, II and III service conditions may respectively obtain RMB 90,000, 60,000 or 30,000 allowances per person for three years.
YOU ARE LOOKING FOR
an investor location
a designer/builder
a creator of energy solutions
?
YOU ARE LOOKING FOR AN INVESTOR LOCATION, A DESIGNER/BUILDER, A CREATOR OF ENERGY SOLUTIONS?
Our teams will be attentive to your needs and offer their advice on the accomplishment of real estate projects in China.